The Flexible Access Inswing Door features a low profile sill, multi-point locking hardware on the active door panel and flush bolts to anchor the inactive panel. the Flexible Access Inswing Door provides both security and accessibility.
Certified and labeled (SFI) Douglas Fir or Ponderosa Pine
Wood or aluminum clad exteriors
61 factory exterior powder coated standard clad color options
Unlimited custom clad colors
Ability to mix clad colors
Solid forged brass handles & escutcheon plates
Multipoint locking mechanism
Extruded aluminum frame (.062" thickness)
Extruded aluminum panels (.075" thickness)
Integral nailing fin
Factory applied drip cap
Basic jamb width 4 9/16"
5 optional jamb sizes available
Multitude of glass options
3 widths of simulite bar 7/8" - 1 5/16" - 2"
Ability to mix bar widths
4 simulite profiles, Colonial or Contemporary, 5/8" Putty.
Frame and panel components are manufactured from kiln-dried preservative treated Douglas Fir. Ponderosa pine is available as an option. Interior surfaces are unfinished clear wood ready to prep for stain or paint. An optional factory applied interior primer coat is available.
Panel stiles and rails are 1 3/4" thick kiln-dried, preservative treated Douglas Fir. Ponderosa pine is available as an option. Top and bottom rails are solid material and engineered for strength and stability. The panel stiles are laminated and engineered. Stiles and top rail are 4 5/8". Bottom rails are 12" wide.
All exposed exterior surfaces of our frame head and jambs are covered with .062" extruded aluminum.
Extruded aluminum frame corners are sealed with silicone and foam pads and mechanically fastened. A continuous extruded aluminum nailing flange is an integral part of the frame extrusion.
The basic jamb width for the in Flexible Access Inswing Door is 4 9/16". Extruded aluminum, factory applied exterior jamb extensions for 6", 6 9/16", 6 11/16", 7 1/16" and 7 9/16" jambs are available.
Warm Edge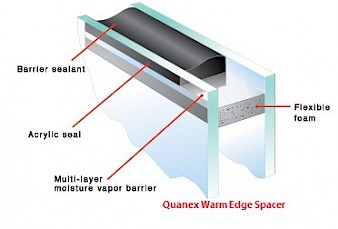 In order to overcome the thermal inefficiency of conventional aluminum window spacers, a new type of spacer product called warm edge technology has evolved in the window industry. Warm Edge refers to the type of spacer material used to separate the panes of glass in an insulated window unit. If the material conducts less heat or cold at the edge of the glass than a conventional aluminum spacer, it is said to be "warm-edge." Most of these newer window spacers are less conductive and outperform pure aluminum. But there's still one small problem -- they all contain some kind of metal. And metal is highly conductive. Unlike other so-called "warm" edge spacers that contain steel or aluminum wrapped in butyl rubber, the Quanex spacer is made of 100% polymer structural foam. The NO-Metal formula conducts less heat and cold than conventional metal spacers and provides the warmest possible edge.
The NO-Metal Warm Edge:
Assures comfortable humidity levels and reduces worries about condensation and mold
Resists window condensation
Reduces energy costs
Provides long-life durability
Reduces outside noise transmittance
Structural thermoset foam spacer reduces the stress on the system therefore reducing stress on the glass which results in less stress cracks and reduces stress on the sealant increasing sealant effectiveness
Globally tested and proven spacer system
High Performance Double Coat Low-E Insulated Glass
Reduce Heating and Cooling Loads
High performance insulated glass with two low-E coatings blocks more solar heat than ordinary low-E and clear glass. The oppressive heat of the sun is composed of visible light and invisible infrared energy. Insulated glass produced with two low-E coatings allows the daylight to pass through the glass and filters out solar heat. In fact, it blocks a large percentage of the sun's harmful ultraviolet rays and delivers a performance improvement in winter nighttime insulation (R-value) compared to non-coated air-filled insulating glass.
Our interior simulite bars are made from clear Ponderosa Pine or Douglas Fir and are available in either Colonial or Contemporary profiles in three widths: 7/8", 1 5/16" or 2". In addition, we offer a 5/8" Putty profile. Insulated units with simulite are standard with an internal shadow bar to give the appearance of authentic divided lites.
Trim set choices
Available finishes
UPCHARGE AND/OR ADDITIONAL LEAD TIME MAY APPLY.
Note: Colors shown may not be exact due to computer monitor differences. A degree of variation may occur on actual production line coatings. Ask your sales representative for a color sample
Accessories
The standard hardware set features a corrosion resistant 300 series stainless steel multi-point locking mechanism with a three point lock on the active panel and edge-mounted flush bolts on the inactive panel. Both interior and exterior handle sets are forged brass for strength and durability and a smooth, blemish free surface.
Hinges are available in finishes to coordinate with the handle sets.
The extruded aluminum clad exterior on Sierra Pacific windows and doors features a finish composed of durable 100% flouropolymer powder coating thermoset to meet AAMA 2605 standards. Powder coatings are more friendly to the environment than liquid coatings for many reasons, including:
Powder coatings emit near-zero volatile organic compounds (VOCs). Liquid coatings are a major source of man-made VOCs.
The application of liquid coatings requires additional energy usage to operate the thermal oxidizers and scrubbers necessary to lower the VOC emissions generated during the wet paint process.
Powder is solvent free. Application of powder does not require the use of solvents necessary in liquid coating applications.
Powder coating is an EPA recommended finishing system, contributing to the Green Building Initiative.
Powder coated finishes have more surface hardness and scratch resistance than common liquid coatings.
UPCHARGE AND/OR ADDITIONAL LEAD TIME MAY APPLY.
Note: Colors shown may not be exact due to computer monitor differences. A degree of variation may occur on actual production line coatings. Ask your sales representative for a color sample