These doors deliver unrivaled durability and robustness thanks to their 100% PVC ultra-rigid frame.
Multichamber PVC frame, 5 9/16"
Multichamber PVC sash
Multiple weatherstripping to eliminate air infiltration
Steel reinforcements in the most heavily used parts
1-point mortise lock
Hidden sash stoppers for aesthetic appeal
Careful design and precise adjustment for flawless door corner joints
Aluminum cladding is clipped on brackets, leaving no visible screws
Optimal space was left between the extruded aluminum and the PVC profile to prevent the PVC from warping due to heat transfer between the aluminum and the PVC on very sunny days
STANDARD INTERIOR COLORS

Blue white

Cream white

Beige
STANDARD EXTERIOR COLORS
White
Metallic grey
Commercial brown
Slate
Black
ADDITIONAL COLORS
Customize your windows to achieve a unique look by choosing from our large variety of non-standard colors.
Click HERE to see more.
Highly energy-efficient double glazing: non-conductive spacer, low-E coating, and argon gas to maximize the energy rating (ER) of your patio door
Design that allows for 1"-thick double or triple glazing 
Profiles designed to significantly reduce the risk of condensation
Options
Low-E double or triple glazing
Bronze tinted glass
Mini-blinds between the glass available on doors 5', 6', 9' and 12' wide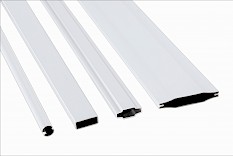 Rectangular 1/4" x 5/8" and 1/4" x 1"
Georgian 5/16" x 5/8", 5/16" x 1" and 1 3/4" 
Standard configurations: Regular (3 x 6), Prairie (3 x 5), Partial (3 x 1) or G45 (1 x 3)
On request: non-standard configurations and tubular grids in white, brass, lead or pewter
Configurations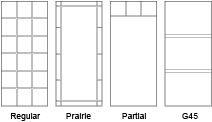 HANDLES
ADDITIONAL SECURITY