By combining the nobility of aluminium and the versatility of PVC in one window, the creators of this series have achieved a new height in elegance and performance.
Attention to the smallest detail in the quest for product quality
In national tests, these windows exceed maximum rating standards
Airtightness test: Multiple weather stripping provides superior resistance
Watertightness test: The drainage system offers unparalleled performance
Wind load and forced entry resistance tests: The multichamber structure enables the casement to safely withstand winds of 350 km/h (220 mph) and the efforts of a determined would-be intruder
STANDARD INTERIOR COLORS

Blue white

Cream white
STANDARD EXTERIOR COLORS
White
Pebble
Commercial brown
Black
ADDITIONAL COLORS
Customize your windows to achieve a unique look by choosing from our large variety of non-standard colors.
Click HERE to see more.
EXCLUSIVE

DOUBLENATURE® FINISH: THE BEST OF BOTH WORLDS
A warm and realistic wood finish that can be applied on the inside and/or on the outside of the window.
Duracon® thermoset acrylic enamel finish renowned for its superior resistance to corrosion, impact and superficial abrasion.
Triple weather stripping provides outstanding airtightness, reducing heating and air conditioning costs.
Sash can accommodate glazing of virtually all types and thicknesses, including single, double, triple and low-E glazing (3/8" to 1 3/8")
The use of angle sections on casement aluminium allows for impeccable 45° joints
Welded corners provide remarkable airtightness and watertightness
Interior glazing bead design is a key security feature, allowing the window to withstand 350 km/h (220 mph) winds.
Cladding is fastened from the inside, leaving no visible screws.
The PVC core of these windows has the highest number of internal chambers, delivering outstanding insulation and sound abatement qualities, as well as thermal efficiency and increased sturdiness
Double Glazing
Composed of 2 panes, an interlayer, a Low-E film and argon gas, this option is the most popular (with good reason) because it offers very good energy efficiency without spending a fortune.
Triple Glazing
This time, consisting of three panes, this configuration provides better thermal performance as well as an increase in the temperature of the inner window which increases the comfort and reduces the effect of condensation. The triple glazing also provides a significant improvement for reducing traffic noise.
The choice of a triple glazing is therefore made when your budget allows it or when the external conditions really require it.
Laminated
The laminated thermos maintains the energy properties of the double glass thermos while considerably reducing the external noise.
Tinted glass
Increases intimacy without obstructing the view. Basically, it doesn't affect visibility from inside the home, but greatly reduces visibility into the home. It's important to note that this type of glass significantly reduces the thermal gains of a window, which affects its energy performance.
Tempered
Tempered glass is a safety glass. When broken, tempered glass will burst into many small pieces to reduce the risk of blessings. This glass is also 4 to 5 times more resistant to impact than a regular glass.
Frosted
Frosted glass is a conventional glass that has been treated with sand or acid to create a satin surface effect. Thus, even if it remains translucent, this glass makes it possible to hide slightly the view towards the inside as the outside.
Grilles
Models:

Configurations: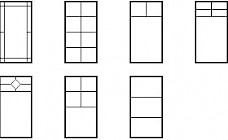 ---
Lites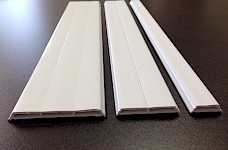 ---
*Multiple colors available. Please contact us for more details.