Wood and Aluminium Windows
Horizontal Sliding Windows are a good solution for areas with limited space. This window also provides the convenience of a pass-through from the interior to the exterior of your building; you simply have to move the screen.
Certified and labeled (SFI) Ponderosa Pine or Douglas Fir
2 sash widths - Narrow and Wide
Basic jamb width 4 9/16"
Mortise and tenon sash corner joints
61 factory exterior powder coated standard clad color options
Unlimited custom clad colors
Ability to mix clad colors
Extruded aluminum frame & sash (.062" thickness)
Frame and sash components are manufactured from kiln-dried preservative-treated Ponderosa Pine or Douglas Fir in unfinished clear wood ready to prep for stain or paint.
An optional factory applied interior prime coat is available.
Two frame profiles are available Colonial and Contemporary.
All sash corners have mortise and tenon joints that are sealed and screwed.
Extruded aluminum frame corners are sealed with silicone, pads and secured with screws.
Warm Edge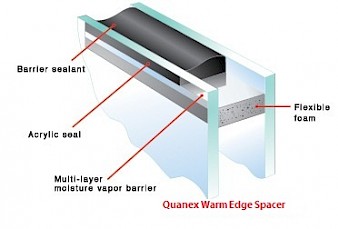 In order to overcome the thermal inefficiency of conventional aluminum window spacers, a new type of spacer product called warm edge technology has evolved in the window industry. Warm Edge refers to the type of spacer material used to separate the panes of glass in an insulated window unit. If the material conducts less heat or cold at the edge of the glass than a conventional aluminum spacer, it is said to be "warm-edge." Most of these newer window spacers are less conductive and outperform pure aluminum. But there's still one small problem -- they all contain some kind of metal. And metal is highly conductive. Unlike other so-called "warm" edge spacers that contain steel or aluminum wrapped in butyl rubber, the Quanex spacer is made of 100% polymer structural foam. The NO-Metal formula conducts less heat and cold than conventional metal spacers and provides the warmest possible edge.
The NO-Metal Warm Edge:
Assures comfortable humidity levels and reduces worries about condensation and mold
Resists window condensation
Reduces energy costs
Provides long-life durability
Reduces outside noise transmittance
Structural thermoset foam spacer reduces the stress on the system therefore reducing stress on the glass which results in less stress cracks and reduces stress on the sealant increasing sealant effectiveness
Globally tested and proven spacer system
High Performance Double Coat Low-E Insulated Glass
Reduce Heating and Cooling Loads
High performance insulated glass with two low-E coatings blocks more solar heat than ordinary low-E and clear glass. The oppressive heat of the sun is composed of visible light and invisible infrared energy. Insulated glass produced with two low-E coatings allows the daylight to pass through the glass and filters out solar heat. In fact, it blocks a large percentage of the sun's harmful ultraviolet rays and delivers a performance improvement in winter nighttime insulation (R-value) compared to non-coated air-filled insulating glass.
Types of glass




Our interior simulite bars are made from clear Ponderosa Pine or Douglas Fir and are available in either Colonial or Contemporary profiles in three widths: 7/8", 1 5/16" or 2". In addition, we offer a 5/8" Putty profile in clad and wood exterior, and a 7/8" Atherton profile in wood exterior only. Insulated units with simulite are standard with an internal shadow bar to give the appearance of authentic divided lites. Exterior simulite bars are solid and either primed for painting or clear for staining.  Interior simulite bars are solid, clear, and suitable for staining or painting.  Multiple simulite bar widths in Colonial or Contemporary profile can be used in the same unit to create unique lite patterns.  Bars are permanently adhered to the glass surface with a very high bond adhesive tape.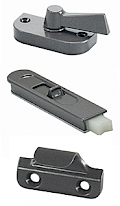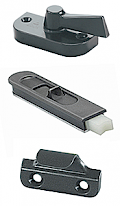 The balance system is composed of a dual block and tackle mechanism with nylon roller pulleys and high tension coil springs. Springs are gauged to individual sash weights with clutch mechanisms to ensure smooth, trouble free operation. Jamb jacks are provided for precise positioning of side jambs for proper sash and balance operation.
Cam style locks at the checkrail are factory applied for security and positive closure. Has tilt latches at the checkrail for increased security, better structural performance, and easy tilt access for cleaning. Sash lifts are standard and match hardware finishes.
Upcharge and additional lead time may apply
Standard Fiberglass Cloth

Clad Exterior: Sliding screens are constructed with an extruded aluminum frame finished in colors to match your exterior clad color. Screen is made with charcoal fiberglass cloth (18 x 16 mesh)
Wood Exterior: Sliding screens are constructed with an extruded aluminum frame finished in your choise of white, black, or bronze. Screen is made with charcoal fiberglass cloth (18 x 16 mesh)
BetterVue

BetterVue™ insect screening for windows, doors and porches is an excellent visibility insect screen (eVis) designed to maximize your outward view. BetterVue is woven from small, refined yarns that improve the screen's openness, making visibility sharper and more brilliant.
UltraVue

UltraVue™ excellent visibility insect screening provides a sharp view of the outdoors while providing more light, air flow and improved indoor air quality.